Jesus said, "Let the little children come to me..."
Have Sunday School At Home:
Jesus Ascends into heaven
(Acts 1:1-14; Mark 16:19; 1 Cor. 15:3-7)
Q 1. Why did Jesus appear to his disciples many times after he rose from the dead?
A: So they would have no doubt that he really was alive and so that he could teach them more.
Q 2. Before he returned to heaven Jesus gave his disciple's a mission. What was it?
A: To be witnesses of him in all the world.
Q 3: What does it mean to be a witness?
A: To tell others what you've heard and seen.
Q 4: Who would he send to help them on their mission?
A: He would send them the Holy Spirit.
Q 5: How else did Jesus comfort them? (Hint: look at our memory verse for today.)
A: He would also be with them always.
Q 6: How can Jesus be present with each believer wherever we are?
A: He is God and man in one person. Wherever God is, so is Jesus, even if we can't see him with our physical eyes.
Q 6: Why do you think Jesus went back to heaven?
A: He had completed his mission of saving us. That is where he belonged--back with his heavenly Father. He now rules from there for our good.

Memorable Verse: Matthew 28:20
"Surely I am with you always, to the very end of the age."
Dear Jesus, thank you for coming to earth and doing everything needed to save us from our sins. Thank you also for your promise to always be with us. How happy we are to know that you, our risen Savior, are with us wherever we go! We love you! Amen.
Sunday Mornings 9:45-10:45 am
Children from 3 years of age through 5th grade are taught age-appropriate lessons from God's word in a fun and active way. They enjoy the story each Sunday, sing songs and do activities that are intended to reinforce the simple lesson for the day. The teachers lovingly introduce the children to their Savior, Jesus.
For children in Preschool through 5th grade, Sunday school begins with a joint opening that will include a story, frequently explored in detail with the help of a puppet, singing and sometimes a video. Following the joint opening they will be given the opportunity to explore the lesson with a variety of senses. Some weeks it will involve drama, some weeks crafts, and other weeks games. We seek to engage the children through a variety of activities to help them grasp what God's Word teaches.
Class starts off in our big room with music. Then we break the group into the grades and they go to there room/area to continue bible lessons. Some weeks we have crafts or drama.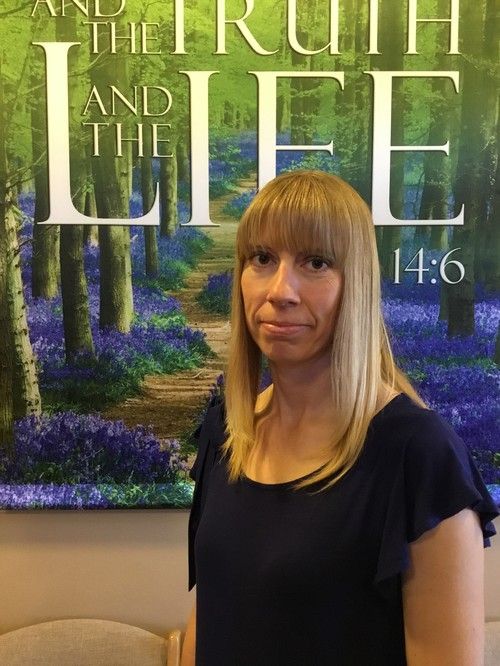 Director & 3-5 Grade Teacher
Pre K & Kindergarten Teacher & Music Director